Face-off: HUDEF HD4 Series Pickleball Paddle Comparison vs. Selkirk Amped Series
Pickleball is for everyone, beginners and pros alike. You don't need to put off playing this game  because you cannot find the right paddles and gear. Think of your pickleball equipment as an investment in your hobby or sport. This blog will help you make smarter decisions.
Pickleball paddles play the most important role in the gameplay. The width, grip circumference, material, and other factors can either improve or negatively affect your performance.
So, as you shop for pickleball paddles, find the one that's right for you. Here, we're going to compare our HUDEF HD4 series with Selkirk's Amped series. The results may surprise you.
Selkirk Amped Series
Selkirk's Amped paddle series claims two key benefits: control and power. This series also features a departure from Selkirk's previous manufacturing technology. The brand has combined Fiberflex face with a thicker polypropylene X5 core to create their panel face.
Shape Variety
Selkirk's Amped paddles come in a variety of shapes for different players' styles. It includes an all-around standard paddle with a handle length of 9". The series also features an elongated paddle with a 9.5" handle length for those looking for extra reach. Amped also includes the largest paddle, but its handle length is 8", which may be too short for some players.
Amped Specifications
The series uses X5 honeycomb core thickness for a larger sweet spot. Selkirk has adopted Fiberflex fiberglass technology to meticulously engineer and redesign its paddles. X5 also provides a reduced vibration sensation to produce a smoother spin and feel.
Amped Pricing
The Selkirk Amped paddles are listed at $150, which is about average for this type of paddle.
HUDEF HD4 Series
The designers at HUDEF adopted a different approach to creating the HD4 series. This series aims to offer maximum and optimal spin on every spot. This feature alone has earned us 100% praise from beginners and professional players. HD4 series is a step toward creating lighter paddles without compromising power and control.
Shape Variety
Our series offers five different shapes (HD4.0, HD4.1, HD4.2, HD4.3, and HD4.5) depending on the varying needs of players. Each paddle comes in both lightweight and mid-weight to cater to the needs of beginner, intermediate, and professional players. We offer standard, elongated, and largest sweet spot paddles in five options, unlike Selkirk, which offers only three options. The height varies from 15.55" to 16.54".
HD4 Specifications
The width of all paddles is 7.79", whereas the grip length is 4.90" to prevent the paddle from slipping. Our paddles are perfect for any skill level, including beginner and pro levels. This series uses a polypropylene core to increase power. The surface of the paddles was manufactured using newly developed grip and spin technology.
All our paddles are designed for the edge to assure solid and well-balanced handling throughout gameplay. HD4's grip circumference is 4.15", compared with the Amped series, which offers a 4.25" circumference. We don't compromise on grip circumference, because thicker paddles are more likely to cause injury and slip during the game.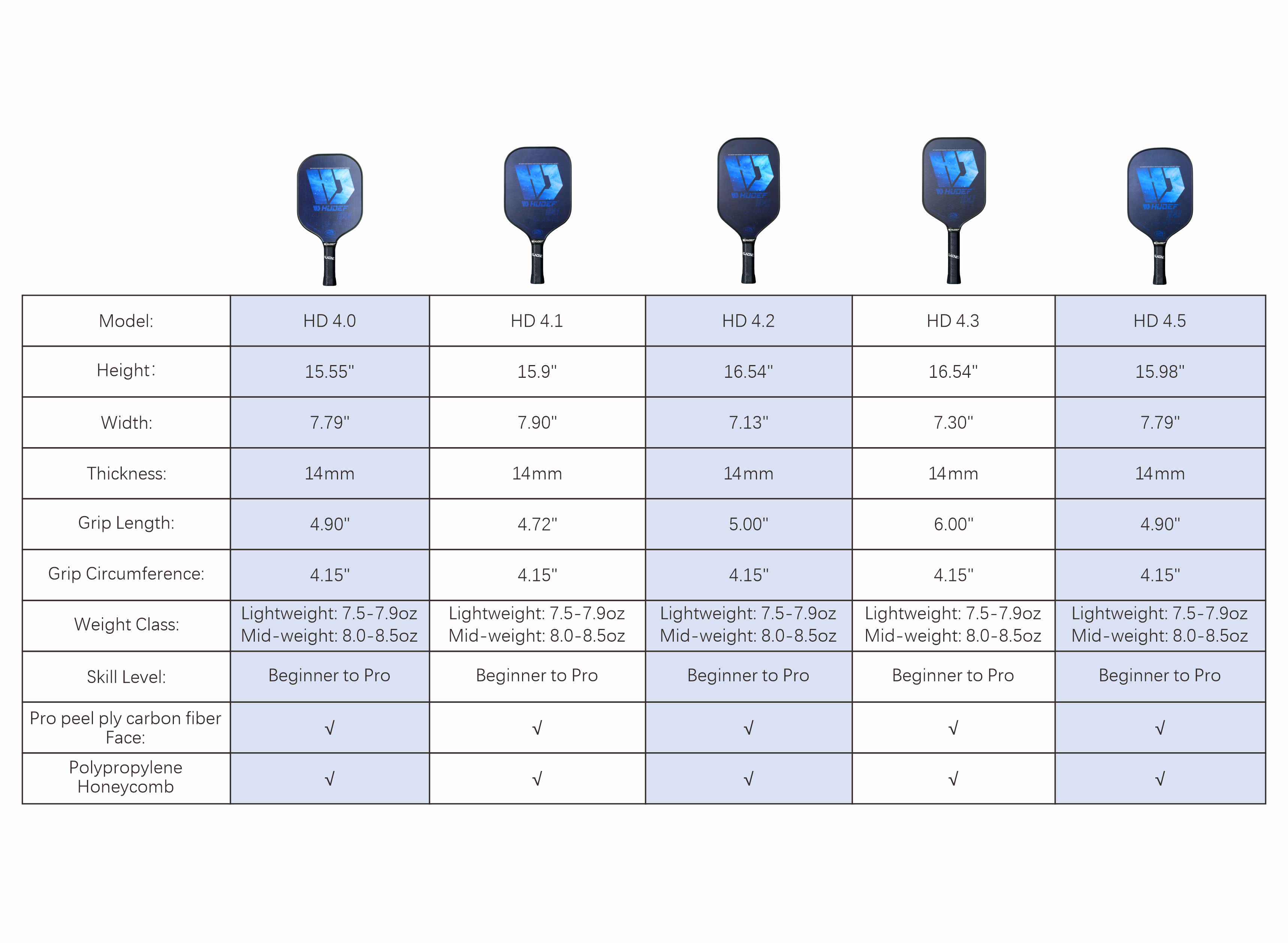 You can buy any of our HD4 series paddles online; all of them come with a free neoprene sleeve to keep your new paddle protected.
At HUDEF Sport, our goal is to deliver top-quality pickleball paddles, balls, and bags online. You can also shop pickleball gear online at our store and be prepared for your next game. We have revolutionized pickleball sports through our products, and we continue to sustainably innovate our processes to add value. Shop our store now!